Episode 13: (first column from top) Basilica of San Vitale, Interior Mosaics at San Vitale of Theodora, Interior of the Mausoleo Teodorico (second column from top) Basilica of San Vitale Mosaics, Basilica of San Vitale Interior, Mosaics at Galla Placidia, Mosaics at Galla Placidia (third column from top) Basilica of San Vitale Mosaics, Mausoleo Teodorico, Galla Placidia Interior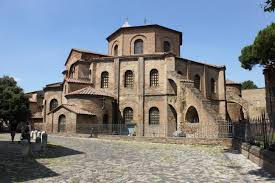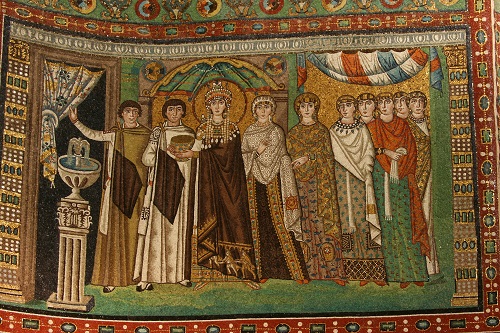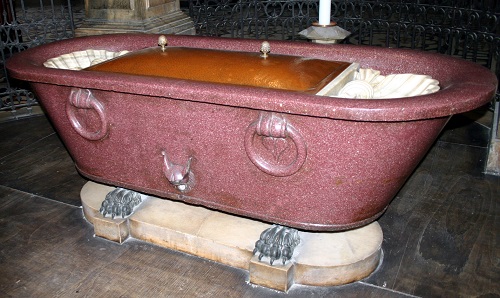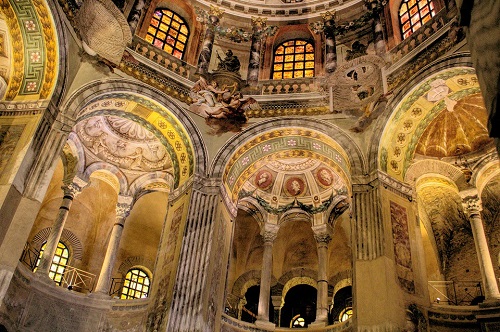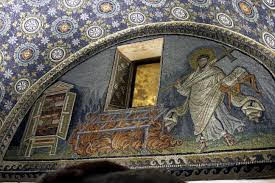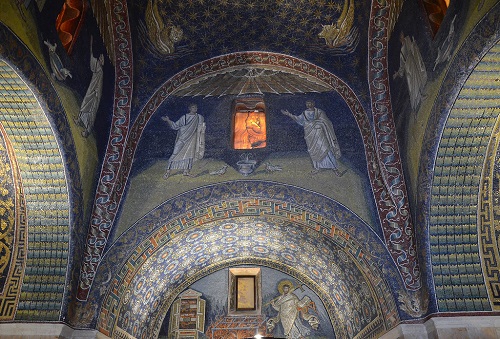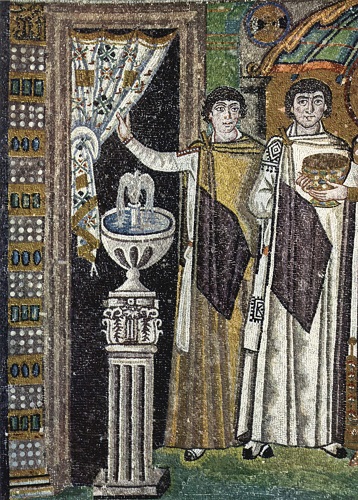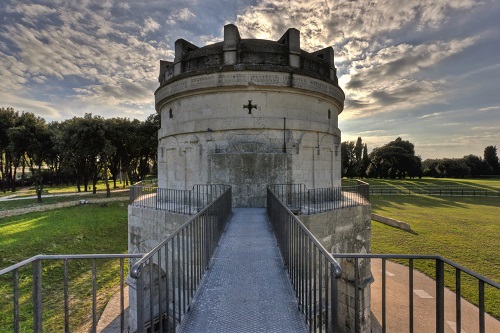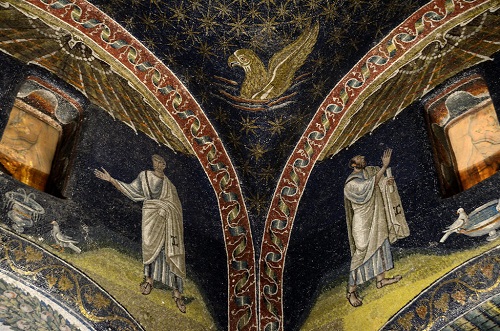 Episode 12: (first column from top)Sant'Apollinare in Classe – interior; Ravenna – Galla Placidia – interior; Ravenna – San Vitale – interior; San Vitale; Ravenna – San Vitale – Mosaic; Ravenna – Tomb Dante Aligheri; Ravenna – Tomb of Dante Alighieri (second column from top) Sant'Apollinare in Classe; Galla Placidia; Ravenna – Sant'Apollinare Nuovo; Ravenna – Tomb of Dante Alighieri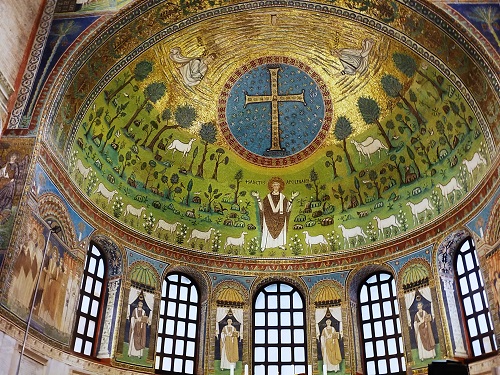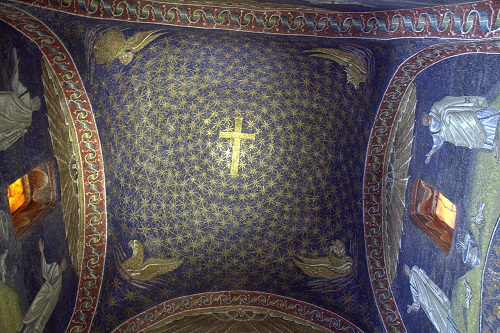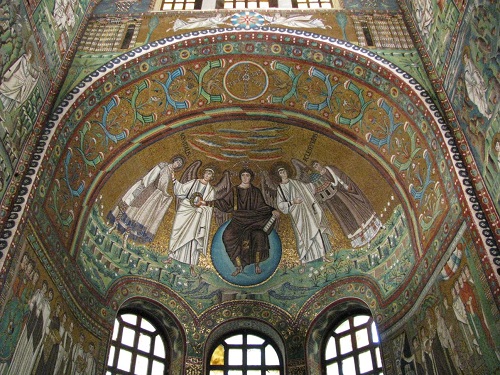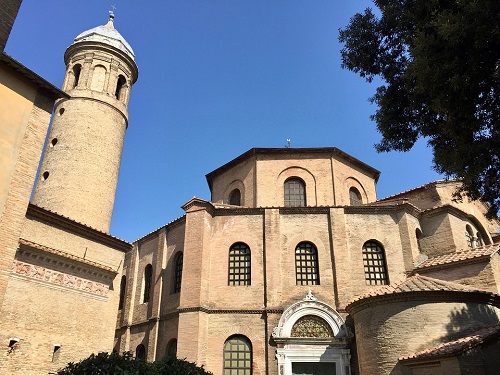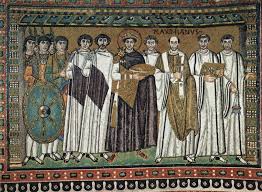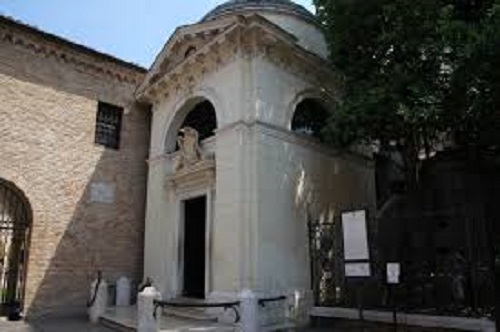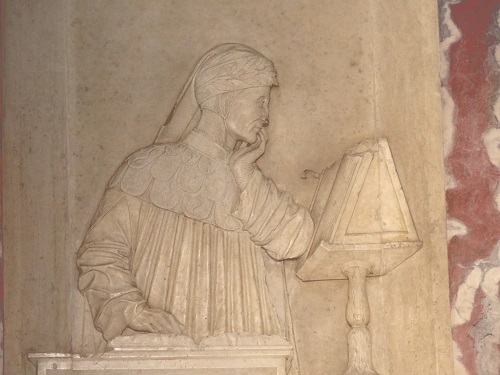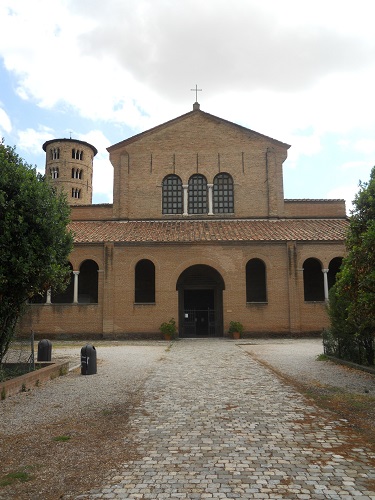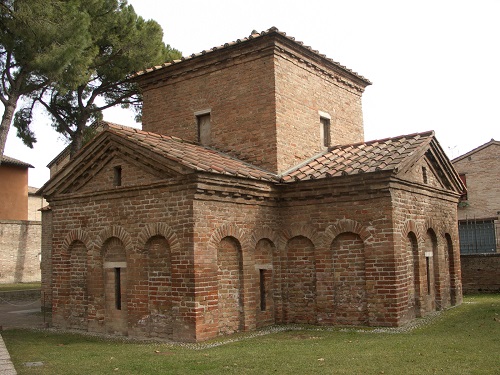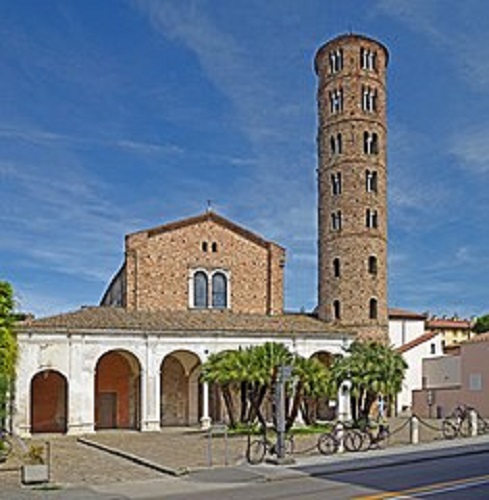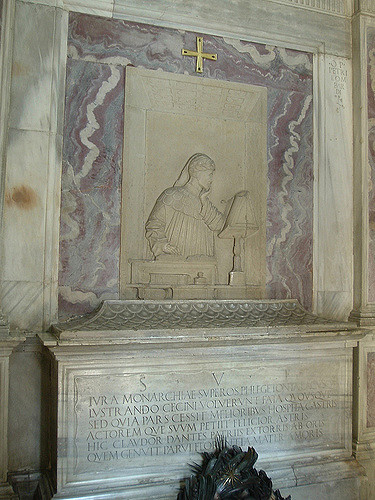 Episode 11 Images (from left to right): 1) Milan – Sarcofago Stilicone, 2) Milan – Sarcofago Stilicone, Traditio Legis calco, 3) Milan – Sarcofago Stilicone (coperchio), 4) Milan – Sarcofago Stilicone (casone)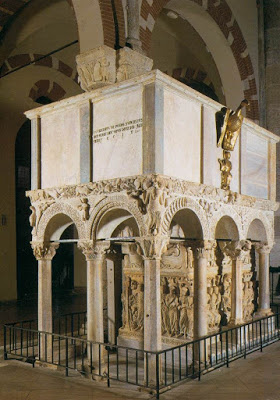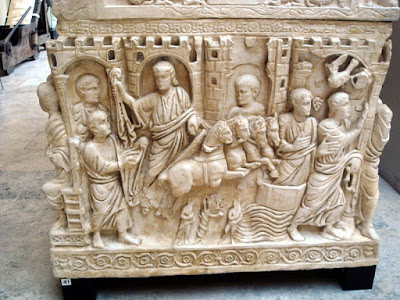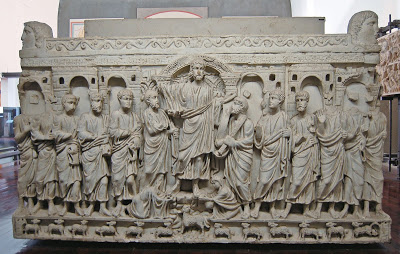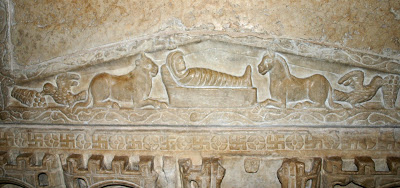 Episode 10: Images (from left to right, first row) Arch of Constantine, Arch of Constantine with the Colosseum, Dogmatic Sarcophagus. (from left to right, second row) Sarcophagus of Giunio Basso, Sarcophagus of Constantina, Sarcophagus of Helena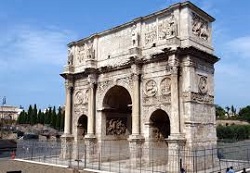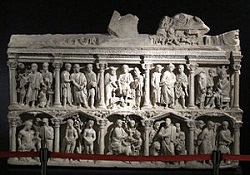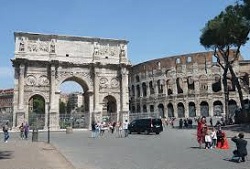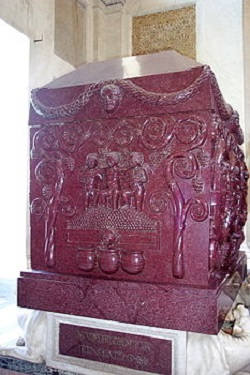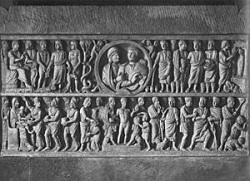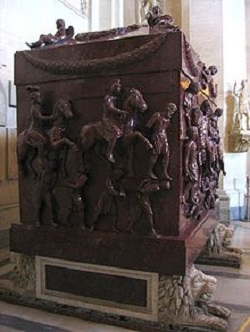 Episode 9: Papal Basilicas. Top Row (left to right): Papal Basilica of St. Francis, The Sacro Convento, another view of the Sacro Convento; Bottom Row (left to right): Tomb of St. Francis, Santa Maria degli Angeli, and The Porziuncola.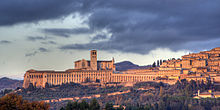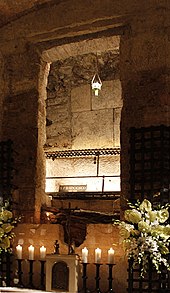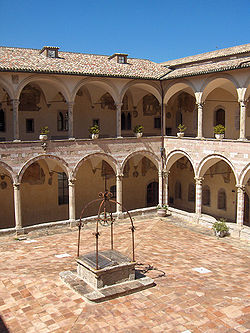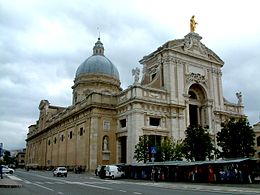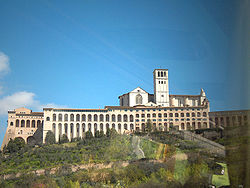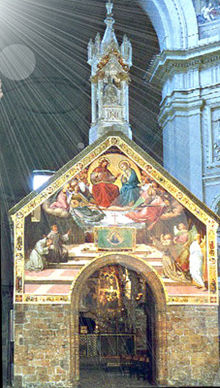 Episode 8:
Images of the Baroque Churches in Rome, which include a) Chiesa del Gesu' – Church of the Jesus (Jesuit Church In Rome); b) Chiesa di Sant'Ignazio di Loyola; c) Chiesa di Santa Maria in Valicella; d) Chiesa di San Carlo Borromeo alle Quattro Fontane; e) Chiesa di Sant Ivo alla Sapienza. You may find
here
the artwork of the Chiesa del Gesù.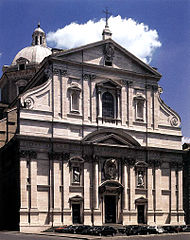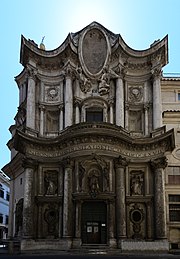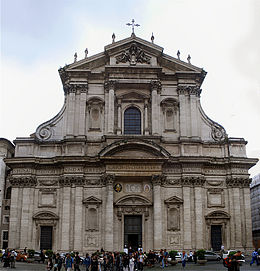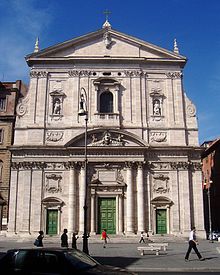 Episode 7: From Left to Right: Dome Cappella Chigi in Santa Maria del Popolo (Rome); Basilica S. Maria degli Angeli e dei Martiri; and Santa Maria del Popolo (Rome) – Chigi Chapel.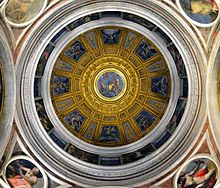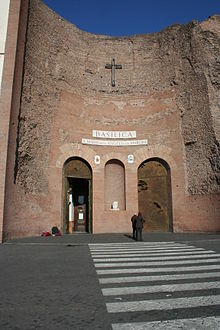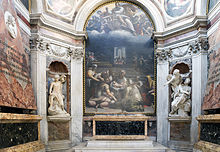 Episode 6. Images. 1. Basilicadi San Giovanni in Laterano. 2. Basilica di Santa Maria Maggiore. 3. Basilica San Paolo. 4. Basilica San Lorenzo. 5. Basilica di Santa Croce in Gerusalemme Facciata. 6. Basilica di S. Sebastiano.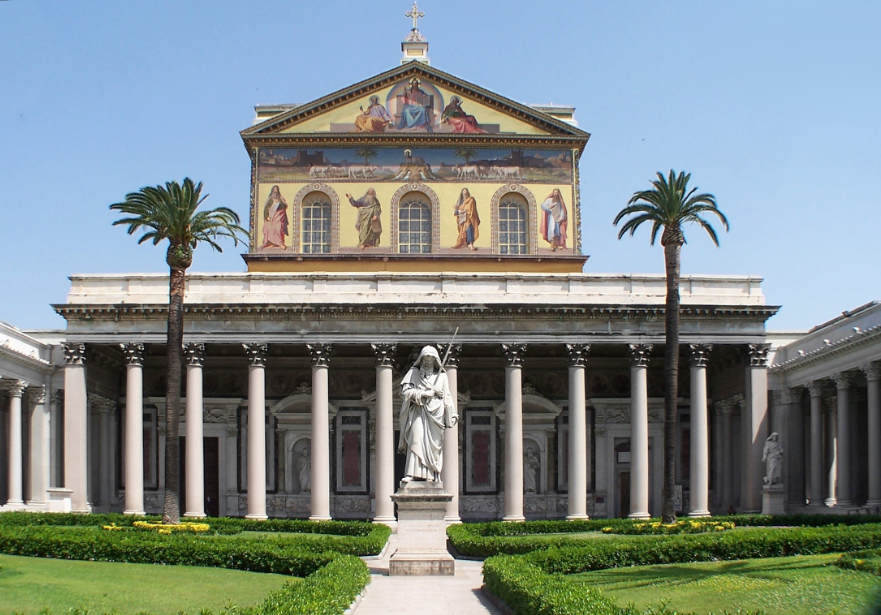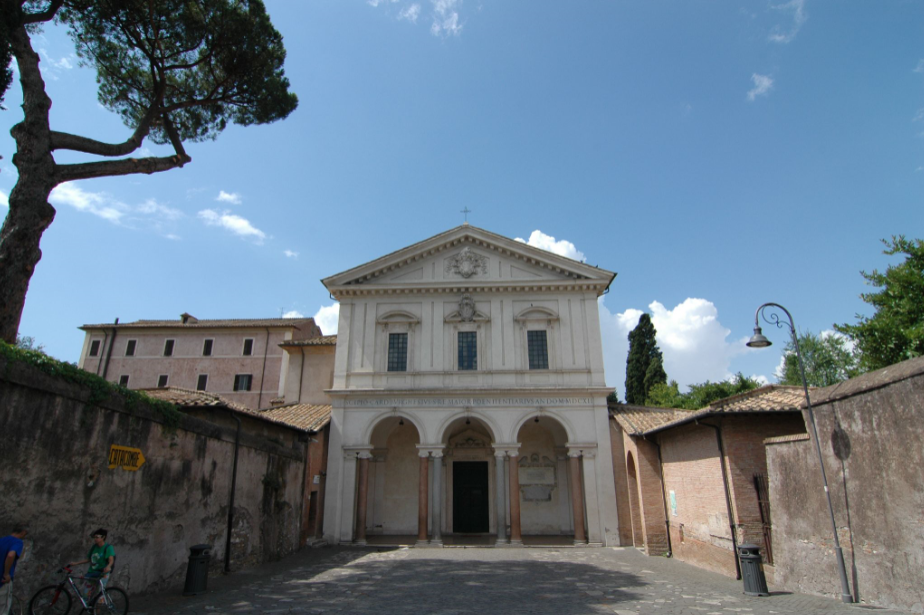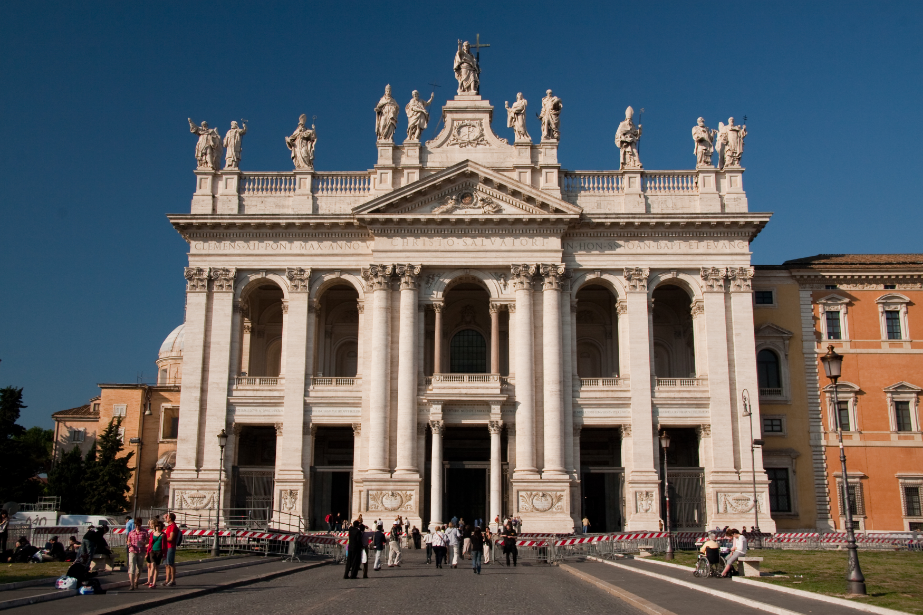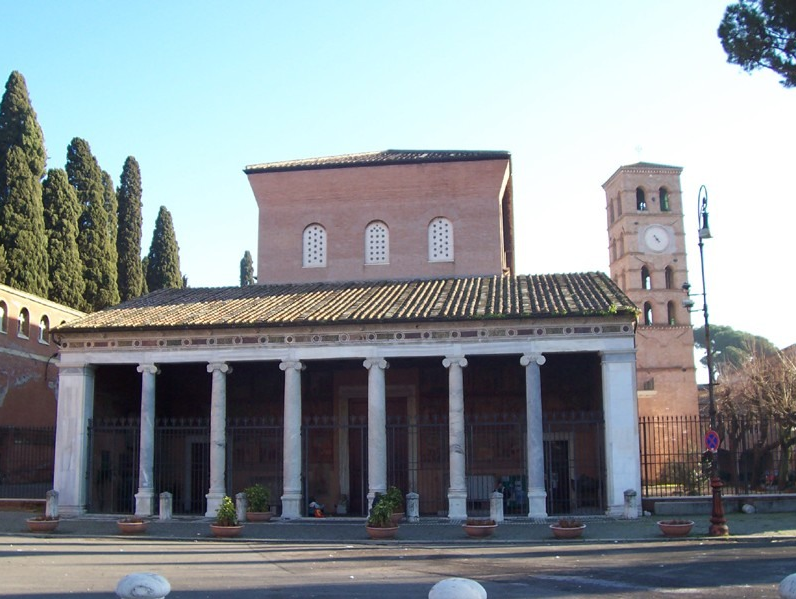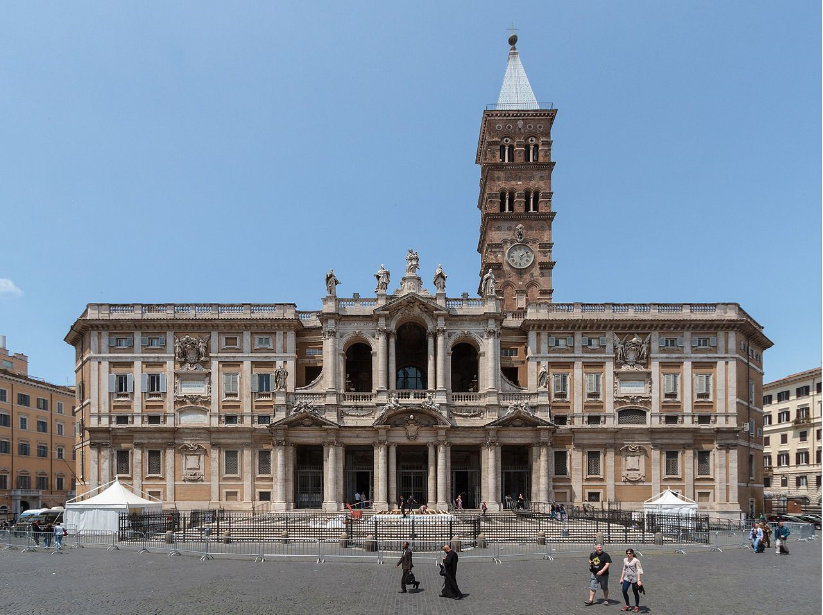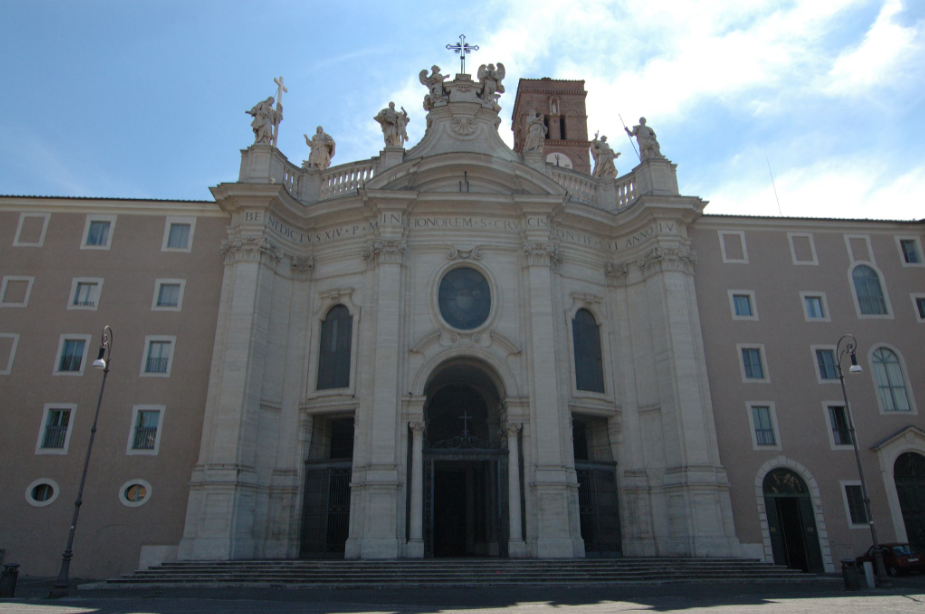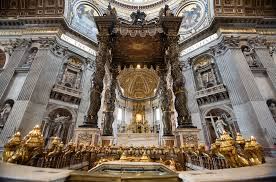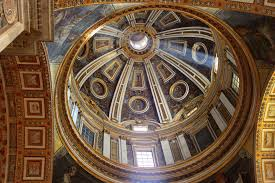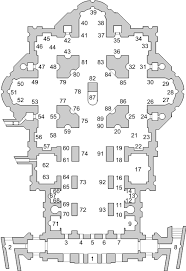 Episode 4:
For today's images, visit the
Cenni Storici
. (Hint: For translations, visit the Google online translator and cut and paste the Italian.)
Episode 3: ​The position of the Mausoleums in the Vatican Necropolis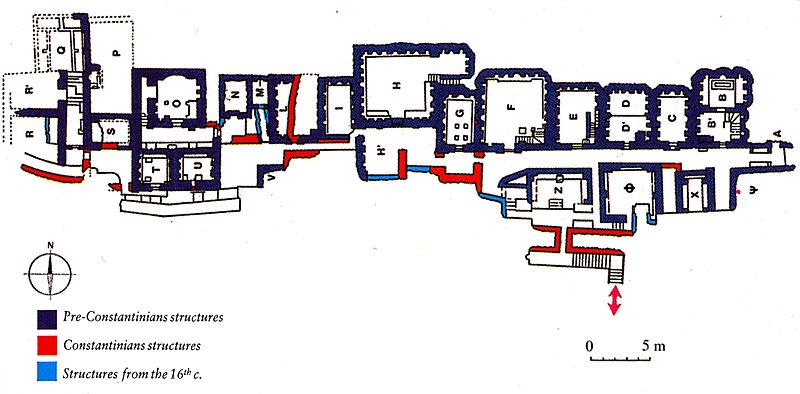 Episode 3: The plant of Vatican Necropolis, in correspondence of the today Basilica of Saint Peter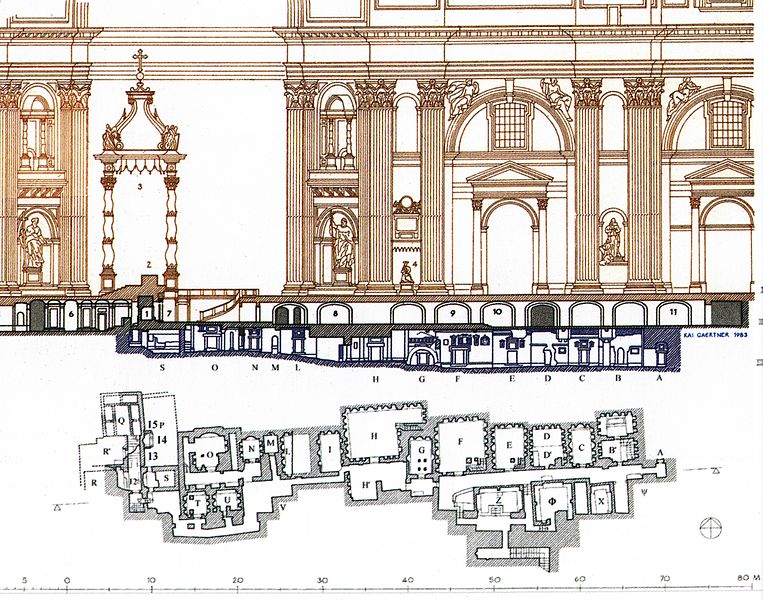 Episode 3: ​This is a reconstruction of the Mausoleums prior to the original St. Peter's Basilica. Note the tomb of St. Peter the Apostle: whose surface is painted red.