(scroll down for details)

WELCOME: There are many FREE items listed below.  You will find them ALL very helpful and effective (if you are trying to help others to understand — how easy, simple, and wonderful it is to have [daily] two-way-conversations with God [as a close personal friend] … just as Jesus and the 10,000 documented saints in history have taught us).
In fact, this is the "one thing necessary and needed" which Jesus told us about in Luke 10:42. 
There are four items on this web page.  Please review the following list before paging down to find the items you wish to use. These items (were all inspired by God Himself) … and have all been very-successful in helping people to easily become "conversational-with-God" … for well over 40-years now. Proof that God has inspired these things is contained on: pages # 273 for Exhibit E, and page # 297 for Exhibit H (in Episode #17 of the FREE Audio-Book #1).
ITEM – 01 …  FREE AUDIOS OF — OUR WEEKLY RADIO SHOWS:
These audios explain the current miracles that are happening to people all around us every day.  These very impactful, true, and current stories are provided for FREE — to help everyone to notice the similar "Co-incident Miracles" which are happening in everyone's lives each day … if we just take time to notice them.  You will find the 15-minute-episodes listed below (by episode number) — and you can immediately and simply CLICK on the weekly show you wish to listen to.  Simply page down to find the weekly episode number you wish to listen to.
ITEM – 02 …  LINKS TO OUR TWO BOOKS.
You can click on either of the following two LINKS which will conveniently bring you to our web pages for each of our books TITLED: (Tony's 50,000 Co-incidence Miracles — book #1 or book #2).
You will find a wealth of FREE audios and FREE videos on these two pages and you will even find LINKS there which you can click on —  which will automatically take you to Amazon or Barnes and Noble; so that you can order copies of the books if you wish.  Just CLICK on which book you want to go to … as follows (Book 1 … or Book 2).
ITEM – 03 …  A SUGGESTION FOR YOU:
We provide all of the above items for FREE. There are many FREE Audios and Videos on both of our Web pages (for both of the books mentioned in item #02 above).  You can get to both books by clicking on the link for (book #1 or book #2) above.
Please do use all of the FREE items listed on our web pages and on this page as well, and please do help others to become conversational and close friends of God.  Our books are very successful in helping people to become (comfortably) conversational with God (as HIS close friends); and within just the first 45-minutes of reading either book-1 or book-2.  Just take 45 minutes to read through chapters 1 and 2 in the printed copies … or just listen to the episodes 3 and 4 in the FREE audio copy of our book-1 as offered below.
God did not make it difficult for anyone to have conversations with HIM … HE made it very simple and easy – because HE actually wants us to be HIS conversational friends. (Ref. Luke 10:42, only one thing is needed).
All these things are offered for FREE so that nobody will be deprived of becoming all that God wants us to be (as conversational close personal friends of God).  If you are blessed by using these things — and if you have also been blessed with the ability to contribute something to help us with covering our expenses; we would appreciate your taking a few moments to make a contribution by using the safe Go-Fund-Me link below.  No contribution is too small or too large and we accept all donations — thankfully and prayerfully for you; and for all of your intentions and needs.
You can click on the Go-Fund-Me account that follows this paragraph to conveniently make your 100% Tax Deductible Contribution to WCAT Radio with the certain knowledge that 50% of the proceeds will be used to defray Tony's expenses. Please do use any of the FREE things you wish … even if you are not able to donate anything at this time. We accept all donations – thankfully and do pray for you and for all of your needs; hoping that you will contribute what you can now, or in the future; to help us with our mission for God — as stated in each book.

ITEM – 04 …  A FREE AUDIO BOOK:

Even if you are not donating anything above, you are still welcome to get a FREE copy of Tony's AUDIO book (Tony's 50,000 Co-incidence Miracles, book #1).  It is a life-changing book and it helps everyone to see how easy and simple it is to have conversations with God at any time — simply because God made it a part of His plan for all of us from the very beginning. This is all explained in episodes 3 and 4 of this free audio-book, or in chapters 1 and 2 of the printed copy of book-1 or book-2. There are 100 true miracle stories in each book.  You can get your FREE copy of Tony's audio-book-1 by CLICKING on the following LINK.
---
Regarding Item – 01 above; HERE ARE YOUR "FREE RADIO EPISODES" — (by date aired). We will add new episodes each week. You will notice 10-miracles in just the first 5-Episodes.
---
Tony Coscia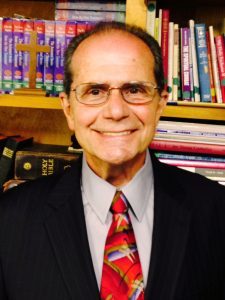 After 50-years of being blessed by Jesus in many miraculous ways, Tony has been inspired by Jesus to write a book to document some of the daily miracles he has been blessed to notice. Tony understands that God's reason for writing a book now, after all these years, is so that someone in the future may benefit from seeing how loving and how friendly God is to those who seek Him each day. That's the same inspiration that created this audio book.
Tony has attended well over 40-annual spiritual-retreat-weekends on a wide variety of Spiritual Teachings. For well over 40 years now; Tony has also taught CCD-Sunday-School and has also been an active lay evangelist. As an evangelist; he has been issuing weekly inspirational letters since 1980. These weekly letters do report on both; weekly inspirations from Jesus … and weekly miracles as well. You can email With777With@aol.com, to be added to this FREE weekly letter. He has also appeared on radio and television as an evangelist.
Tony is often heard saying: "All of my peace and joy and happiness come from the moments when I am participating with Jesus in doing God's Will." Tony also says that; "Jesus wants to co-exist with each person every day (as a close friend); we were created by God because He decided that He really wanted us to be His Friends."